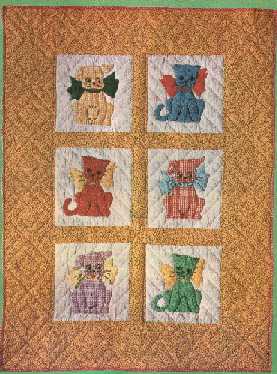 Original pattern design by: Gertrude M. Rice

Size:

33 3/4" X 44 1/4"

Materials:

(All fabrics should be washable cotton or cotton blends.) Yellow and red calico 36" wide 8 3/4" yds. (includes backing). Small amounts (about 6" X 9") of three ginghams and three calicos; scraps of fabric in red and contrasting solid colors. Red gingham for binding, 1/4 yd. white fabric 36" wide, 5/8 yd. White and matching sewing threads. One skein black cotton embroidery floss. Batting to fit size of quilt.

Directions:

Quilt is constructed of six appliqued blocks set with calico background.

Appliques:

Enlarge dog and cat patterns (follow the link at bottom of page for patterns) on paper ruled in 1" squares. (Or however it's easiest for you to enlarge the patterns). Make a seperate cardboard or template plastic pattern for each applique piece (heavy lines on patterns): for dog - body, hind legs, head, two ears, tongue, five parts of bow; for cat - body, hind legs, tail, head, five parts of bow. You may use what ever applique technique is easiest for you. Three dogs are in different ginghams, Cats are done same way with calicos. Bow pieces are in contrasting solid color for each. Dogs tongues are from red.

Blocks:

From white fabric, cut six pieces 9 3/16" X 9 1/2", adding 1/4" (or the measurement you like here) seam allowance all around. Trace the full pictures of dog to three blocks and same with cat to three blocks. The 9 3/16" edges are the sides of the blocks. Applique dogs and cats to the white blocks. Using the full 6 strands of embroidery floss stitch in all the details of the face, lines on body and bows.

Assembling:

From yellow calico, cut four strips 2" X 9 1/2" and one strip 2" X 31 1/2", adding 1/4" seam allowance all around. Sew blocks into vertical rows of three blocks each, with a short joing strip between blocks (sashing strips); make one row dog, cat, dog and the other row cat, dog, cat. Join rows, with long strip between. Piece should measure 21" X 31 1/2" plus outside seam allowance.

For borders, cut two pieces from yellow calico 6" X 21" and two pieces 6" X 43 1/2" adding 1/4" seam allowance all around. Sew shorter pieces to top and bottom of quilt top, then longer pieces to sides. Quilt top should measure 33 1/2" X 44", including outside seam allowance. Finish with batting, backing and quilting.

Binding:

This is made with the red gingham. Make your binding as you would for any other quilt.

Gingham Dog and Calico Cat pattern.