Goofy Dino's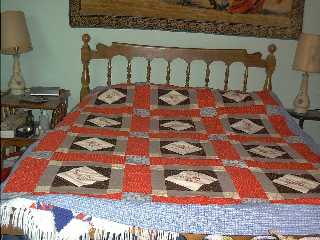 Finished Quilt

Backing fabric on quilt

In the ditch quilting from back

Border quilting from back. Shapes of dinosaurs.
This is the top I finished for the YMMDI Frenzy. It's supposed to be for a queen sized bed. Pictures are taken on a full size bed. I had the red work and part of the blocks finished before the frenzy, all I had to do was finish putting it together and adding the outside borders. When and if DH ever remembers where he put that quilt with the shredded top I think this will replace it.